Organic wine : L'envie 2014
An
organic wine

from Corbière in Aude, Occitanie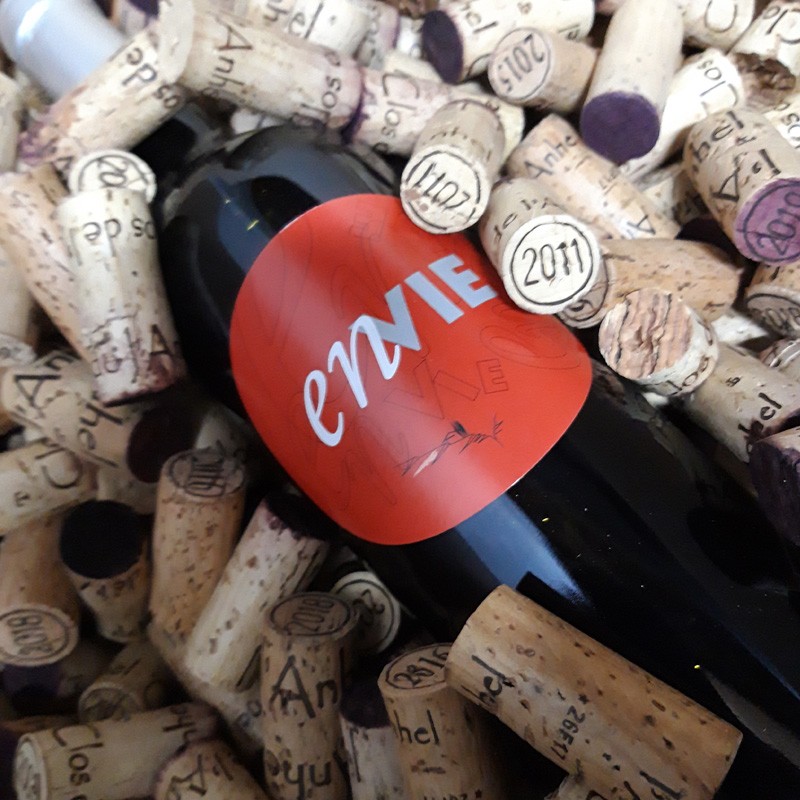  
€29.00
Tax included
the bottle
To know everything

about L'envie 2014

The idea is born in 2010, but… the conditions were not present to realize it. "Envie" means desire but "En vie" means also alive.

In 2011, a "enVIE" for 90% Mourvèdre
In 2012, no "enVIE" because no "envie"
In 2013, an "enVIE" 100% Syra.
In 2014, an "enVIE" 100% Syrah

For me, wine is the result of the collaboration between the grape and the winemaker. For this cuvée, I require that both partners be at their optimum.
TERROIR
Sous-sol du Paléocène inférieur. Sols argilo-calcaires graveleux.
Parcelles de vignes en terrasses. Altitude comprise entre 200 et 225 m.
Exposition Nord-Ouest. Terroir de Lagrasse.
CEPAGES
Syrah 100 %
TRAVAIL DE LA VIGNE et MILLESIME
145 heures de taille (les vignes sont taillées en gobelet et cordon de Royat). 60 heures de tracteur. 25 heures de machine à dos. 45 heures de pioche et de désherbage manuel. 40 heures d'ébourgeonnage. 15 heures d'écimage manuel. 24 heures de vendanges. 4800 heures de vent du Nord, le Cers. 2400 heures de vent marin. 500 mm de pluie. 2 nuits blanches. 295 verres de vin rouge, histoire de comparer...
Les vignes sont cultivées sans utilisation d'insecticide, ni de désherbant, en agriculture biologique certifiée par Ecocert.
Ce millésime est un millésime tardif, frais, avec une maturité lente, bien adapté à la syrah.
AGE DES VIGNES
Syrah de 18 ans, avec une densité de plantation, importante pour la région de à 6000 pieds /ha.
VINIFICATION
Vendanges manuelles, les grappes sont égrenées et foulées. Cuvaison de 20 à 25 jours. 2 pigeages manuels (ou 1 ou 0 selon mon humeur !) par jour, jusqu'à immersion totale du chapeau de marc.
ELEVAGE
En cuve à 100 %. Cette cuvée est élevée uniquement en cuve.
POURCENTAGE D'ALCOOL 13.5%